Art and crafts in Tossa de Mar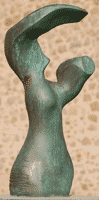 Tossa de Mar belongs to the few cities of Catalonia where art is everywhere. Since 1935 the small city at the Mediterranean Sea has in its oldest part of the town not only the first museum of modern art with a painting of Marc Chagall, who gave Tossa the name "blue paradise", works of Rafael Benet (one of Tossa's leading artist in the thirties), J. Clarà, Georges André Klein, Josep Palau, Olga Sacharoff, J. Ma. Subirachs, Joaquim Sunyer or Oscar Zügel and numerous other artists who lived and worked in Tossa but shows art in every street.

Tossa is also known for his annual contest of quick painting which takes place in every last Sunday in August and joins about 200 known and less known painters in its magical light. In 2008 will already be attributed the 52nd Premi Internacional Tossa de Mar de Pintura Rápida. This day artists populate the whole town in the hope of winning one of the prices.



For those who can open their eyes, Tossa de Mar offers in nearly every street a work of art. Art interested visitors find in the town art not only in the museums and galleries, which exist as well, and offer numerous sculptures and paintings in their art galleries but at every corner.

Sculptures of Catalan artists like Ció Abellí (el Monument a Ava Gardner in the Vila Vella


), Bonaventura Ansón (Poseidons and Toosa which is inspired by a legend of Tossa or Testimoni), Frederic Marés (Minerva who lets glance her eyes over the Platja Gran


and the oldest part of the town) are only some examples of Catalan art which are already worth to visit Tossa de Mar.

A walk throughout the streets of the Catalan town also provides an impression about the artistic ceramics which document, among other things, the modernization of the older part of Tossa, the Vila Nova.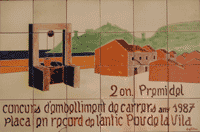 Other monuments remind of the Catalan poet and writer Jacint Verdaguer, one of the greatest authors of Catalonia (Canigó) or of Richard Bach (Joan Salvador Gavina, in English known as Jonathan Livingston Seagull, a symbol of personal freedom). Others show the past of Tossa like the ruins of the Villa Romane dels Ametllers, remaining sculptures of the old church Saint Vincent or in the front of the old hospital of Tossa which houses today the cultural centre of the town, or the paintings of the 20th century which transform the new church San Vicenç into a religious museum.

Who strolls with open eyes throughout the streets of Tossa discovers, even without visiting a museum or a gallery, already innumerable works of art and gains impressions of Tossa the mass tourists in both summer months never see.