The Platja d'Es Codolar or the Playa El Codolar
The third-biggest beach of Tossa, the Platja d'Es Codolar, lies a bit hidden under the tower Torre de Codolar, one of the three towers of the city wall which has kept its original name. The name Codolar stands for "stones formed by the sea" what every visitor of the beach finds immediately confirmed only by looking at the sand mixed with gravel and the fascinating rocks polished by the water. Because the Playa El Codolar is very sheltered (excluded from the Llevant and the Garbí) it constituted also the old harbour of Tossa and is still used by some of the few fishermen who rest.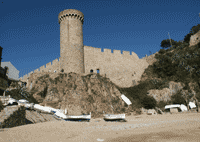 The beach Es Codolar is approximately 80 meters long and up to 70 meters wide. There's also a bar where you can rent beach chairs, parasols and kayaks in summer. You'll find also showers at the beach. But there's the same problem we encountered already at the other big beaches in the centre of Tossa, the so called Platja Gran


and the beach Platja de la Mar Menuda


, the abrupt water depth may be a danger for kids who don't yet can swim in open Sea. While some of the rocks invite tourists for a sun bath, to climb the mountain is extremely dangerous and more than once the rescue service had to hurry for help to save young persons who didn't see the danger.

Even if the Musée Moderne can be seen from the beach, it can not longer be reached from this side. In 2007 the gate in the city wall at the mirador of the Platja d'Es Codolar was closed. The mirador is also the point of departure for the in 2006 built (but still incomplete) coast way Camí de Ronda dels Cards, which offers an unforgettable panoramic view over the Mediterranean Sea and the Vila Vella


.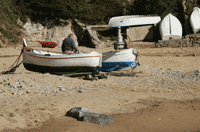 The part on the right hand of the beach Playa El Codolar shelters an extraordinarily rich water world. Small animals romp around and numerous algae have settled down there. This little world can best be observed before the stream of tourists overcrowds the beach or in the evening. A special event is also the moment when one or the other fishing boat, les barques, leave the old harbour in the late afternoon or the early evening and disappear slowly in the blue colour of the Mediterranean Sea.