Hiking and walking in the surroundings of Tossa
Even if the majority of the tourists come to visit the Old Town, the Vila Vella


of Tossa, to relax at one of the 19 beaches or to discover the painters of Tossa de Mar, a stay offers also the possibility to dive into the 5000 years old history of Tossa nearly without any effort and without visiting only one museum from inside.

The history of Tossa can simply be experienced by walking in the mountains because of the numerous hiking trails in the surroundings which not only offer magnificent views over the Mediterranean Sea, the Pyrenees and hidden bays, they also lead to several thousand years old dolmens, menhirs and caves which can be found in the forests of the Selva.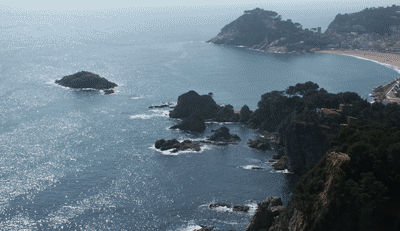 The hiking trips lead over pleasant trails, but also over paths hardly to use and which demand good footwear. They soar up between 200 and 500 meters with views over mountains and sea which no one forgets so quickly. It doesn't matter if you only want to walk for two hours in the Mediterranean forests or if you want to spend a whole day in the Cadiretes, the mountains in Tossa because there are excursions and hiking trails for everyone.

The long trail GR 92 leads in one direction to Sant Feliu de Guíxols and in the others to Lloret de Mar, Blanes and even Tordera. But you can also choose the Camí del Aigua, explore the Parc de Sa Riera, visit the hermitage of la Mare de Déu de Gràcia


where at each beginning of May an Aplec takes place or discover to the chapel Sant Grauwhere each 13th of October an Aplec with Sardana invites to a stay of a few hours. According to season you can also get a look at some of the traditions and customs


of Tossa de Mar.

During the hiking trips or a simple walk you'll discover also, just by walking, the typical Mediterranean plants, the medicinal herbs or, according to season, a multiplicity of the fungi which live in the nature almost unaffected by human beings. To hike in Tossa is already an adventure which nobody should miss during his vacation in the little Mediterranean town.