Mediterranean Plants in the surroundings of Tossa
Mediterranean plants have, in a certain way, adapted themselves to hot, dry summers and the heavy-rainfall in warm winters. Every plant has developed its own protection against desiccation and is now depending of the existing Mediterranean climate. Every change of soil or climate and every human intervention in the animal kingdom and the natural flora destroys some species whose development required centuries or millenniums.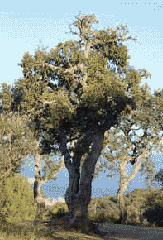 More and more Mediterranean plants of the Southern European coasts disappear step by step and leave their places to hotel buildings, holiday villas, parks or a monoculture with quickly growing plants which convince with their profitability more than a natural environment which often is difficult to discover. So a lot of Mediterranean plants often find their last chance of survival in gardens and the few parks who invite tourists to visit the last natural wealth near the Mediterranean Sea. These measures won't save any Mediterranean plant, because an artificial environment cannot replace an intact ecological system.

Because of its geographical position the surroundings of Tossa de Mar were spared by the mass devastation of its natural wealth and was able to keep the multiplicity of Mediterranean plants visitors can still find in their mostly original surroundings. Trees like cork oak (Quercus suber), fig (Ficus carica), olive-tree (Olea europaea), strawberry tree (Arbutus unedo) or stone pine (Pinus pinea) find their place still next to agave (agave americana) and aloe vera. The Selva, as the region around Tossa is called, still offers thyme, fennel, lavender and rockroses. The whole year round nature interested visitors can discover the Mediterranean vegetation in one of its stages.

Brooms, pomegranates, tree aenium (Aeonium Arboreum), ice plants (Carpobrutus), myrtle and Mimosa are only some of the numerous species of Mediterranean plants which Tossa de Mar presents to its guest in the most natural park of the world, in its natural environment which is destroyed, however, more and more by human beings. Today, however, Tossa de de Mar is still one of the last bulwark of the Costa Brava because of it geographic situation and its natural protection be cliffs and mountains. Hundreds of plants which have adapted themselves within centuries to the Mediterranean climate lead the interested guest in a world which will release the last secrets after their disappearance, when the last native Mediterranean plant became a victim of the so named progress.

Because of their ecological peculiarities the Cadiretes, the mountains which dominate Tossa de Mar, as well as the Parc de Sa Riera, with its unique irrigation system take a special roll for plants and animals. No region on the Spanish Mediterranean coast disposes nowadays over the same variety in plants, among other things of several protected species, which usually have their home only in the northern part of Europe.