Traditions and customs in Tossa de Mar
No other place in Catalonia is so rich in traditions as Tossa de Mar. Nearly every month there are some events or festivities which have their roots in the Catalan customs and the traditions of Tossa de Mar. Some of the traditions go centuries back and are based on historically documented events. The legend of Sant Ramón de Penyafort


(Saint Raymund of Penyafort), for exemple, goes back till 1236 and until today a mass to his honour is celebrated on the 23rd of January on the beach Mar Menuda


. The mass to his memory is hold in Catalan


and describes the arrival of the saint in Tossa. Since approximately the year 1400 a legendary pilgrimage takes place in Tossa, el Pelegrí, This story goes back to the time as the city was threatened by the plague. A pilgrim walked 40 kilometres to the Capella de Sant Sebastià in Santa Coloma de Farners to ask for mercy from Saint Sebastian, and Tossa was saved. Also the regularly danced Sardanas have their origin already in the 16th century. In the beginning of May of each year, the Aplec de la Mare de Déu de Gràcia


takes place at the ruins of the hermitage. The chapel hermitage was build at the same time as Tossa was named in history for the first time.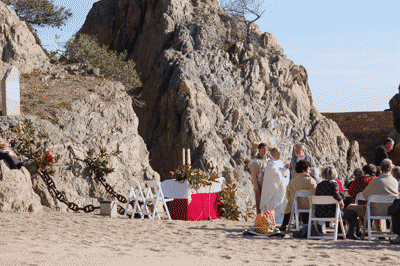 But also other traditions are deeply anchored in the soul of Tossa and invite guests from the whole Catalonia, so the Cavalcada de Reis, the arrival of the Three Kings on the 5th of January which is a parade throughout Tossa and attracts all the children of the town. Or the Carnaval, in which visitors get the feeling that every inhabitant of Tossa must be involved in the parade and the activities of these days and which ends with the Burial of the Sardine


. Finally, far beyond the borders of Catalonia is known the procession Corpus Christi on the 7th of June which leads over a sea of flowers which is prepared with a lot of perseverance and love by the inhabitants of Tossa. Or take the annual Pessebre vivent, the Christmas play, which takes place in the oldest part of the town, the Vila Vella. At Christmas Time, it attracts every year so many guests that most visitors have to wait up to an hour to access the Old Town and to see the play.

But Tossa offers to its inhabitants and guests much more, because every major event is accompanied by a Sardana and once a year an Aplec de Sardana takes place in which several known coblas and groups of sardanistes participate. To the Diada Nacional de Catalunya, the National Day of Catalonia on the 11th of September nearly every window of the town shows the Catalan flag which dominates all day long over the festivities. However, no one should forget the Nit de Sant Joan in the night from the 23rd to the 24th of June. The festivities end with a big firework over the beach and the oldest part of the town. Or take Sant Jordi on the 23rd of April, the day of the book and the rose with its bookmarked on thePlaša de Espanya. To understand Tossa de Mar, you should not forget to listen, once a year, to the already classic Habaneres


on the Platja Gran


and participate in a Sardinada the morning of the Fishermen's Day. Who experiences all these events, or at least some of them, will feel the soul of Tossa and begin to understand why Tossa can't exist without these traditions.



The festivities of Tossas from January to June, 2008


The festivities of Tossa from July to December, 2008