The history of Tossa

From the colonization to the Roman dominance
Dolmen, menhirs, caves, as well as stone tools and ceramics from different excavations prove that Tossa has already been settled in the Neolithic period (about 5000 BC) what means in the prehistoric time.

But also in the following epoch Tossa was constantly occupied, namely by the Iberians (from 1000 BC). Archaeologists found in the Tossa area numerous places witch prove Iberian settlements, so also the part of the town where vil·la romana dels Ametllers is situated and on the way which leads to the lighthouse.

Coins and fragments of ceramics prove without any doubt that the Iberians lived in Tossa. All modern knowledge also points out that the Iberians already used Tossa as a harbour. Archaeologist take the discoveries of ceramics at different sites, fabricated about 200 BC, as indication for this conclusion.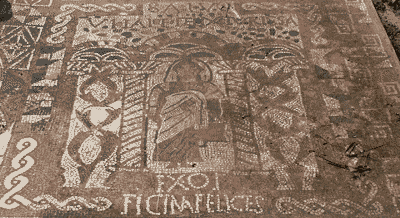 The Romans began to colonize Tossa about the year 100. Several excavations led to some of the Roman villas we know today, so to Mas Carbotí, Ses Alzines and, finally, the vil·la romana dels Ametllers which is nowadays within Tossa. The discovered pieces prove without any doubt that already the Romans cultivated and pressed wine in Tossa.

The vil·la romana dels Ametllers was in 1914 almost entirely excavated and is considered as the most important Roman building of the old Roman province of Tarraconese. The discoveries at the site proves that not only wine was pressed, but that the Romans also produced big amount of olive oil. In the excavation site the archaeologist found also the mosaic with the inscriptions "Vitalis" (the owners of the villa up to the beginning of the 5th century) and the inscription "Turissa", the Roman name of Tossa. However, the name Turissa points to the fact that already the Iberians gave this name to Tossa.

While some mosaics and the ruins of the buildings can still be seen in the excavation site, the marble statues of Apollo and Mercury, pillars, bronze objects, coins and other subjects of daily use of the Roman time are now in the museum of Tossa which can be found in the Vila Vella


, the oldest part of the town.

With the northern movement of the Islamic people in the 8th century on the one hand and the feudalism and its green revolution on the other hand the Roman influence declined in Tossa and caused a radical change in the year 881. Turissa became first Tursam and, finally, Tursa.



From the colonization to the Roman dominance


In the feudalism from the Vila Vella to the Vila Nova


From the Vila Nova till the 19th century


From the 19th century to the present